Tuesday, July 20, 2021 - 7:00pm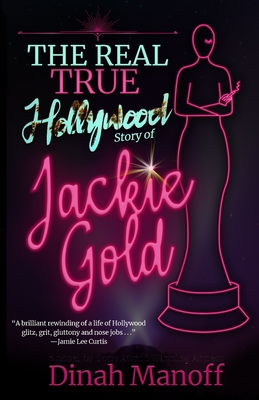 How many of you long to know what really happens in Hollywood? Join us for the much-anticipated book launch of award-winning actor and director Dinah Manoff as she offers an honest, although fictional, glimpse behind the red carpet in her new novel The Real True Hollywood Story of Jackie Gold. The story follows a Hollywood star, the remarkable journey that got her there, and her walk-in closet full of tabloid-worthy secrets. Best known for her roles in Grease and Empty Nest, Bainbridge Islander Dinah Manoff has used her own experiences to craft an engrossing page-turner both exciting and wise, posing the ultimate starry-eyed question: Does fame really matter in the end?
Jackie Gold is a tabloid cover girl with a walk-in closet full of secrets and a pack of bloodthirsty paparazzi snapping at her high-heels. From the hospital bed where she lies fighting for her life, Jackie narrates in flashbacks, while press and public speculate on everything from whether "Jackie's Jump!" was a suicide attempt, to whether or not her breasts are real. The novel switches back and forth from the life-or-death drama unfolding in the hospital and Jackie's reflections on her improbable show business upbringing and the events that led her to this moment in time.
When we meet Jackie she is at the peak of her career. She's been offered the role of a lifetime and her equally famous boyfriend is People's Sexiest Man of the Year. But her life takes an unexpected and terrible turn when the paparazzi storm her hotel room...
"...And not until my robe billows up over my head like a broken parachute do I realize I have missed the mark. I wish I could tell you that my life then went before me in slow motion, or that I thought of Brett, or my family, or even about how Nicole had betrayed me, but my last thought before striking the rocks was, Thank God I'm wearing nice underwear."
Dinah Manoff is a Tony award winning actress (Neil Simon's I Ought To Be In Pictures), well-known for her vast work on the stage, big screen, and television. Manoff resides with her family on an island near Seattle where she writes, coaches and teaches acting. She is the founder of the Northwest Actors Lab. Along with her other endeavors Manoff has developed an Arts Program at the Purdy Women's Correctional Facility where she also teaches acting and improvisation. Learn more about Dinah at https://dinahmanoff.org/.
Event address:
Bainbridge Island
,
WA
98110
Books:

$17.99

ISBN: 9781946802767
Availability: Usually Ships in 1-5 Days
Published: Star Alley Press - July 20th, 2021
---