Good Life Lab, with Wendy Tremayne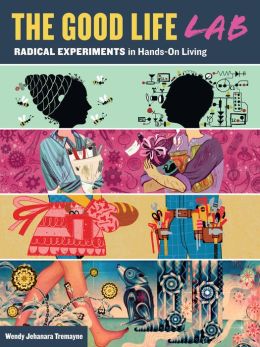 We are very excited to welcome New Mexico writer Wendy Tremayne to talk about her book The Good Life Lab: Radical Experiments in Hands-on Living. Leaving a fast-paced, high pressure New York life to build an off-the-grid home in Truth or Consequences, NM, Tremayne tells the story of how she and her partner made, built, invented, foraged, and grew all they needed to live self-sufficiently, discovering a new sense of abundance in the process.
"This rollicking, inspiring tale of Tremayne's journey from being the creative director of N.Y.C. marketing firm Green Galactic to being a Burning Man volunteer, yoga teacher, Sufi seeker, and hardscrabble DIY urban homesteader in a former trailer park in the eccentric community of Truth or Consequences, N. Mex., is alternately funny, tender, philosophical, and practical," writes Publishers Weekly.
Event date:
Thursday, June 13, 2013 - 7:30pm to 8:30pm
Event address:
98110 Bainbridge Island
us

please email (staff@eagleharborbooks.com) or call (206.842.5332) for price
ISBN: 9781612121017
Availability: Out of Print
Published: Storey Publishing, LLC - June 4th, 2013
---