Material Value, with Julia L.F. Goldstein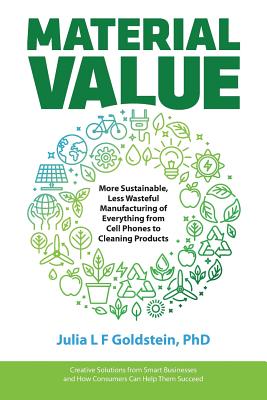 Have you wondered why gold is so expensive or why so little plastic packaging is recycled? Please join us on Thursday May 16 at 7:00 pm when we host Julia L.F. Goldstein for her new book Material Value, More Sustainable, Less Wasteful Manufacturing of Everything from Cell Phones to Cleaning Products. This compelling event will be co-hosted with Sustainable Bainbridge.
Examining environmental sustainability through a lens of materials extraction, processing, use, and disposal, Material Value lends a unique perspective on this popular topic. By learning how metals and plastics are made and what happens when various materials are recycled, readers will better understand the challenges that manufacturers face when trying to make their facilities and products less toxic and less wasteful.
Corporations that have been considered evildoers are not necessarily as bad as they seem, and startups are creating innovative solutions with the potential to revolutionize industries. Individuals, governments, and businesses all have important roles to play. Consumers can influence markets through personal choices about which products to buy. Regulations can force the hand of companies that are too focused on short-term profit while giving an advantage to those that are already exceeding environmental sustainability goals. Manufacturers can extract the value of materials while doing less damage to human health and the environment.
Julia Goldstein explains concepts clearly and concisely through compelling examples and personal stories. She shares the journeys of the professionals she interviewed, all of whom are devoted to making the world a better place.
Concerned citizens with or without a background in manufacturing or business will find surprising answers to the questions facing companies as they work toward making better use and reuse of materials.
Event date:
Thursday, May 16, 2019 - 7:00pm to 8:00pm
Event address:
Bainbridge Island, WA 98110-2425

$16.99
ISBN: 9780999595619
Availability: Usually Ships in 1-5 Days
Published: Bebo Press - April 22nd, 2019
---