Sunday, October 30, 2016 -

4:00pm

to

5:00pm
Help us welcome back bookstore favorite Paul Bannick when he gives a presentation on his new book Owl: A Year in the Lives of North American Owls. We will host this event at The Bainbridge Island Museum of Art auditorium ( 550 Winslow Way E, Bainbridge Island, WA 98110 ) on Sunday, Oct. 30, at 4pm. Get a sneak preview of the book by listening to Bainbridge Community Broadcasting's podcast -- click here.
Seating is limited! Though the event is free and open to the public, customers who preorder or buy the book from EHBC at the door will receive priority seating. Others will be allowed in first come as long as seats are available.
In Owl, award-winning photographer Bannick uses his intimate yet dramatic images to track four different nesting owl species — Northern Pygmy, Burrowing, Great Gray, and Snowy — throughout the course of one year and in four distinct habitats. Readers follow along at the nest as each stage in an owl's life is chronicled: courtship, mating, and nesting in spring; fledging and feeding of young in summer; dispersal and learning independence in fall; and, finally, winter's migration. Unusual irruptions and the everyday struggle to survive are also covered.
In addition to the four featured owls, all 19 species of North American owls are generously depicted throughout the book; Bannick's startling images reflect their shared behaviors as well as some surprising exceptions and adaptations. More than just a backdrop, the four featured owl habitats — forest, grassland and steppe, boreal, and arctic — reveal wildly rich stories of their own.
Owl is a stunning follow-up to Bannick's bestselling title, The Owl and the Woodpecker, giving bird lovers yet another gorgeous photographic tribute, engaging natural history, and a compelling call to preserve the habitats that sustain these most iconic of birds.
--------
Paul Bannick is an award-winning wildlife photographer specializing in the natural history of North America, with a focus on birds and habitat. Owl: A Year in the Lives of North American Owls, published under the Braided River imprint of Mountaineers Books, takes readers on a stunning journey through the lifecycle and varying landscapes that owls inhabit. His first book, The Owl and the Woodpecker, published by Mountaineers Books, was translated into national traveling museum exhibit of the same title. Paul is the photographer for Journey with Owls and Woodpeckers of North America: A Naturalist's Handbook, and his photographs are featured in several other books and calendars as well. His photographs have appeared in The New York Times, Audubon, Nature's Best Photography, Sunset, Birds and Blooms, and Ranger Rick. Paul currently serves as the Major Gifts Director for Conservation Northwest, an organization dedicated to protecting and connecting wild areas from the Pacific Coast to the Canadian Rockies. He is a keynote speaker and presenter at bird festivals, conservation events, and conventions.
Event address:
Bainbridge Island Museum of Art
550 Winslow Way E,
Bainbridge Island
,
WA
98110
Books: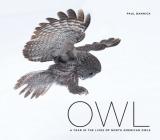 $34.95

ISBN: 9781594858000
Availability: Usually Ships in 1-5 Days
Published: Mountaineers Books - September 21st, 2016
---

$34.44
Backordered
ISBN: 9781594850950
Published: Mountaineers Books - October 15th, 2008
---