Two Speckled Eggs, with Jennifer Mann
Great news! Bainbridge Island illustrator Jennifer K. Mann is also an author -- and we are helping to celebrate the launch of her first children's picture book! And it is an Indie Next kids pic this spring. Come join us! You might find some delicious malted bird's eggs!
A birthday party sets the scene in this sweet and relatable story for anyone who's ever been the odd girl out.
It's Ginger's birthday, and she has to invite all the girls in her class to her party, including Lyla Browning. Lyla isn't like the other girls: she smells like old leaves, doesn't talk much, and once brought a tarantula to school for show-and-tell. On the day of the party, Lyla is much earlier than everyone else. But even after the others arrive, Ginger's party doesn't go quite the way she'd hoped: some of the girls change the rules to the games, and no one likes her silver and gold birthday cake -- except Lyla. By the time Lyla gives Ginger her present -- a tiny homemade nest with two delicious malted-milk eggs -- Ginger begins to wonder: is being different really such a bad thing?
"Two opposites may not be as opposite as they imagined in Mann's look at grade school cliques and oddballs....Readers may not look at their classmates the same again." Kirkus Reviews
_______________
Jennifer K. Mann was an architect before turning to children's books full time. Two Speckled Eggs is the first book that she has written and illustrated. She illustrated BI author George Shannon's Turkey Tot. Mann lives on an island near Seattle with her husband, children, cats, dogs, and chickens
Event date:
Sunday, April 27, 2014 - 3:00pm to 4:00pm
Event address:
98110 Bainbridge Island
us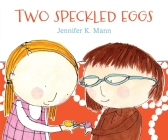 $14.99
ISBN: 9780763661687
Availability: Usually Ships in 1-5 Days
Published: Candlewick - April 22nd, 2014
---

please email (staff@eagleharborbooks.com) or call (206.842.5332) for price
ISBN: 9780823423798
Availability: Out of Print
Published: Holiday House - September 1st, 2013
---