Who Put the Cookies in the Cookie Jar, with George Shannon and Julie Paschkis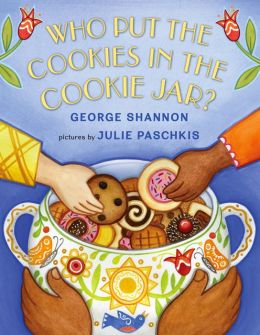 Island Treasure, children's author, and librarian George Shannon will be joined by illustrator Julie Paschkis to launch George's new book Who Put the Cookies in the Cookie Jar?
It's easy to take a cookie out of the cookie jar: just reach in. But how does it get in there in the first place? It's more complicated than you might think. Someone has to milk the cow, grow the wheat, harvest the sugar cane--everyone has a special job to do to make that cookie possible.
George Shannon and Julie Paschkis take us on a delicious cookie journey, showing how many hands work together so that one hand can take the cookie out--and so that you can take a huge yummy bite! 
Shannon and Paschkis provide a charming multicultural answer to the title question, creating in the process a confection that ... will tempt young appetites as well." Kirkus Reviews
__________________
George Shannon has loved books and cookies since he was too young to walk. His mother baked him cookies; both parents read him stories. As an adult George has written many books, and baked (and eaten) too many cookies to count. His favorite cookies to bake for friends are orange chocolate chip shortbread cookies. Picking a favorite cookie to eat is too hard!
Julie Paschkis is a painter and an award-winning illustrator of more than fifteen books for children. These picture books include folk tales, poetry, and biography. She has also been exhibiting her paintings for twenty years, and a love of pattern and of folk art shows in her work. The bottom line is that she loves to make things: paintings, books, designs, and cookies. Her favorite cookie is a little nut cookie, and her favorite cookie name is "rugelach."
Event date:
Sunday, April 14, 2013 - 3:00pm to 4:00pm
Event address:
98110 Bainbridge Island
us

$17.99
ISBN: 9780805091977
Availability: Usually Ships in 1-5 Days
Published: Henry Holt & Company - March 5th, 2013
---