Jennifer Mann is a children's book author and illustrator who shares her life on Bainbridge Island with her husband and two children, six chickens, three cats, and two dogs. She finds inspiration for her stories and art from memories of her childhood, her children's antics and adventures, and the silly going-ons of her domestic menagerie. Mann is the illustrator of Turkey Trot (2013), written by island author George Shannon. Her debut as a writer came in 2014 with Two Speckled Eggs, Josie's Lost Tooth was released in 2018, and in 2021 she published The Camping Trip, which won the Washington State Book Award. For more information about Jennifer go to http://www.jenniferkmann.com/books/.
Learn more at Jennifer K. Mann's official website

This title is not available.
ISBN: 9787550274853
Published: Bei Jing Lian He Chu Ban Gong Si - December 1st, 2020
---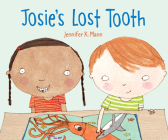 $16.99

ISBN: 9780763696948
Availability: Backordered
Published: Candlewick - September 11th, 2018
---

$17.99

ISBN: 9781536207361
Availability: Usually Ships in 1-5 Days
Published: Candlewick - April 14th, 2020
---